Fixed Partial Denture Denver, Colorado
Before: Failed upper posterior three-unit bridge. Tooth #14 (upper left first molar) requires root canal therapy. Ideal candidate for a single dental implant to replace missing tooth #13 (upper left second premolar) and two single crowns on abutment/support teeth 12 (upper left first premolar) and 14. However, the patient is not interested in implant therapy and would like revision crown and bridge (fixed partial denture) therapy.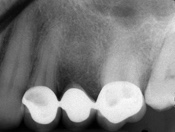 After: Revision crown and bridge therapy. Tooth #14 was carious and required root canal therapy and a build-up (foundation restoration) prior to definitive bridge therapy. Three-unit fixed partial denture (bridge), porcelain fused to gold, abutment teeth 12 and 14.
You may need a single implant Denver, Colorado or a full mouth rehabilitation Greenwood Village, Colorado. Dr. Leopardi serves the entire Denver, Co area and his office is located in Greenwood Village, Co. He is an expert with everything from crowns Denver, Colorado to teeth whitening. Give us a call today if you need any cosmetic dentistry work and we can set up a consultation.