Missing Upper Teeth in Need of Replacement
(Fixed; Full Arch Restoration; Acrylic-fused-to-Metal; Fixed Partial Denture; Implant Supported and Implant Retained)
Before: Missing tooth structure and compromised gum/bone (the result of years of bone resorption, or melting away).
Completed bridge work with intaglio (tissue contacting surface), also shown on a mirror surface.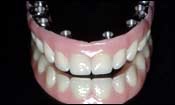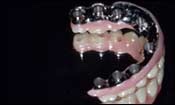 After: Completed implant therapy. This patient went from removable dentures to having a permanent, aesthetic and functional implant supported, fixed prosthesis (acrylic fused to metal, screw-retained design). She can now eat any type of food with comfort and security. The bridge cannot be removed by the patient, but can be by Dr. Leopardi, if needed for professional cleaning and/or maintenance.