Replacing of Missing Teeth Specialist
(Immediate Implant Placement | Implant Crown)
Prior to tooth replacement: Titanium implant/root in place for replacement of missing tooth (upper right lateral incisor). Shown while gums were healing, prior to construction of the definitive aesthetic porcelain fused to gold single implant crown.
Replacement of Missing Tooth Expert in Denver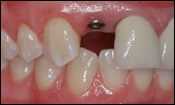 After: The completed aesthetic implant crown in place.