(Fixed; Full Arch Restoration; Acrylic-fused-to-Metal; Fixed Partial Denture; Implant Supported and Implant Retained)
Before: Failed upper and lower remaining teeth. Patient elected to proceed with Phase I immediate upper and lower complete denture therapy with the view toward phase II implant therapy.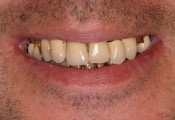 After: Definitive, fixed, acrylic fused to metal, screw-retained (retrievable) upper and lower hybrid restorations. Supported by 8 Maxillary (upper) and 7 Mandibular (lower) root form titanium dental implants. Treatment outcomes included improved function (100% bite-force), mastication/diet, aesthetics and enhanced quality of life.