Custom Conventional Tooth Crowns
(Replacement) (Ceramo-metal Tooth Crowns)
Since every patient is unique, we believe every crown should be customized to blend seamlessly into each person's distinctive smile. We carefully craft each porcelain crown to complement the surrounding natural teeth in color, size, shape, and texture to restore integrity to the patient's bite.
While considered part of cosmetic dentistry, custom crowns have oral health benefits, reinforcing the structure of a tooth while helping to make your smile look whole and natural again.  Crowns are also used to secure artificial teeth as part of a dental bridge, and we attach them to dental implants to replace missing teeth.
If one or more of your teeth are affected by decay, chips, cracks, or other forms of damage, customized dental crowns may provide an ideal solution.   While a custom dental crown can solve these problems, you must have healthy gums to be a good candidate. The dental restoration we create with dental crowns work in tandem with the remaining healthy portion of your teeth or dental implant to provide support for the crown.
We do not offer "one-day," or "same-day" crowns!  Our individual care, attention to detail and commitment to your smile, means you're assured of the finest dental care… not the "quickest."
Porcelain crowns are one of the many options we offer to create a natural, healthy smile for you.  We welcome your questions regarding what's best for your situation.  Please call us at 720 488-7677 for a consultation appointment and let us put together the right treatment plan for you.
Before: Poor fit and appearance of existing upper front tooth-borne crowns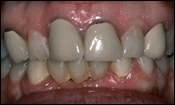 After: Upper front teeth have been restored with a combination of conventional crowns and porcelain laminate veneer therapy. Optional gum surgery to even the position of the gums was declined by the patient
The aesthetic transformation resulted in improved patient confidence and self-esteem.
More Custom Conventional Tooth Crowns Links:
Old Deteriorated Upper Crowns Requiring Revision Therapy
Failed Upper Anterior Central Incisor (Front Tooth)